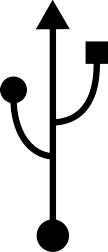 This power cord by Nite Ize is designed to work with Apple products and unlike many other non Apple cables, this cable not only charges, but syncs as well. USB ports seem to be everywhere these days and this mini cable fits neatly into an slim aluminium case to ensure it always to hand.
This aluminium case is light and can be easily attached to any key ring to prevent loss. The cable is fitted with a black protective cap to aid protection and maximise longevity.
Dimensions: 3.8" x 0.7" x 0.4" (9.7cm x 1.8cm x 1cm)
Weight: 0.6oz (18g)
Here at Pellpax we offer probably the best airgun delivery service in the UK, with weekly deliveries to your door on all airguns across England and Wales and mail order deliveries on all other items.
Unfortunately due to recent changes in the law we can no longer deliver to Scotland although we can transfer to your local Registered Firearms Dealer.
As an RFD ourselves, we can deliver air rifles and air pistols direct to your door. See our guidelines on what ID you require by clicking HERE.
If you have any questions regarding this service, please do not hesitate to give us a call on 01263 731 585.