Finance Information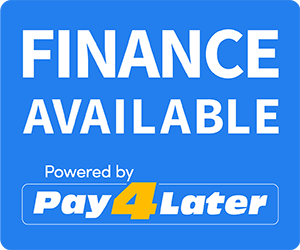 Pellpax are now able to offer Finance through our website and in store courtesy of Pay4Later. Finance is available on any order over the value of £500, the process is very quick and simple, and a decision is returned within seconds.
Our credit is offered at a very competitive rate of just 14.9% APR Representative, meaning the cost that you have to pay for Finance is less. We can offer Finance on 12, 24, 36, and 48 month terms to allow for the best flexibility and rates.
When viewing any product on our site there is a large button below the price and if the total amount of that product is above the £500 threshold, you can open the calculator to view the cost of credit, if it is below it will tell you how much extra you need to spend to be eligible, but you can still open the calculator to see how much a standard £500 loan will cost.
After you have added your items to the basket, of a value above £500, simply click on 'View Basket and Checkout', then click the 'Pay Monthly' button, and it will take you through to the Checkout screen. After you have entered your details, click the 'Apply for Finance' button in the Pay4Later section at the bottom of the checkout screen. You will then be redirected to the Pay4Later application screen to apply for the loan. Simply follow the on screen instructions until you reach then end, and a decision is made.
If you have any questions regarding the Pay4Later process, please do not hesitate to contact us on either 01263 731585, or email us on enquiries@pellpax.co.uk
Consumer credit service is provided by Pay4Later Ltd. Pay4Later authorised and regulated by the Financial Conduct Authority (Interim Permission Number: 0616240). Registered offices are at 33 St Mary Axe, London EC3A 8AG. For more information please refer to www.pay4later.com/consumerfaq or visit www.pay4later.com.
Finance is provided through the Pay4Later platform by a number of lenders. You will be offered the best rate available based on your credit history and our lender's' credit decision policies. You will be informed who the lender is at the point the loan is offered, and provided with their full contact details.