Pellpax Quality Assurance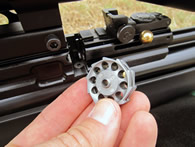 Before delivering to the customer Pellpax check all air guns, air rifles and air pistols to ensure they are working correctly. We also zero the rifle or pistol after fitting any additional extras such as scopes or silencers. This ensures that the item you receive will work, and will be safe to use, straight out of the box.
If you wish to 'opt out' of this service you will be presented with the option to do so as you go through the purchasing process.